IMSU 2021/2022 Post UTME and Direct Entry registration exercise date, eligibility, cut off mark and How to apply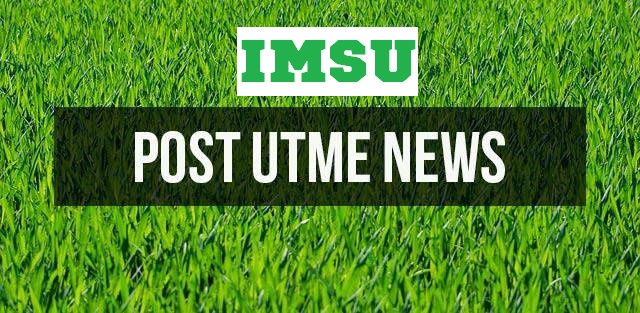 IMSU 2021/2022 Post UTME and Direct Entry registration exercise date, eligibility, cut off mark and How to apply
This is to inform the general public especially prospective students, that Imo State University Owerri will commence registration of candidates for 2021/2022 POST UTME and Direct Entry exercise on 18th October, 2021.
Eligibility
Candidates who chose Imo State University as their first choice and scored a minimum of 150 are eligible to apply.
More also, candidates who did not chose Imo State University as their first choice but scored the required cut-off mark are eligible to apply, but on the condition that they visit the Jamb website and change their institution of first choice to Imo State University, Owerri.
Direct entry candidates must be holders of OND/HND/FIRST DEGREE, A' Level or their equivalents in relevant disciplines and subjects. In addition to the online application, Direct Entry candidates must also ensure that their OND/HND/First Degree transcripts, O' and A' Level results or their equivalents are forwarded to the registrar, Imo State University, Owerri on or before 30th October, 2021. Any candidate whose transcript is not received before the stipulated period will not be considered for Direct entry admission.
What you missed; Download IMSU Updated Past Questions and Answers (PDF) Art & Science, 2021 Edition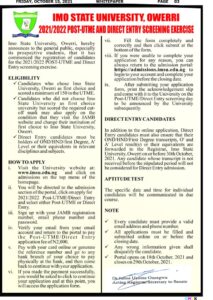 Requirements
BIO DATA
NAME
STATE OF ORIGIN
LGA
EMAIL ADRESS
PHONE NUMBER
SEX
CONTACT ADRESS
DATE OF BIRTH
MARITAL STATUS
PASSPORT PHOTOGRAPH
NEXT OF KIN DETAILS
FULL NAME
ADDRESS
PHONE
RELATIONSHIP
JAMB DETAILS
JAMB REG NUMBER
JAMB SUBJECTS AND SCORES
TOTAL JAMB SCORE
COURSE
 O LEVEL DETAILS                                          
O LEVEL TYPE
WAEC EXAM MONTH
EXAM YEAR
EXAM NUMBER
SUBJECTS AND GRADE
Download Post UTME registration form
How to apply for IMSU post UTME
Visit the IMSU site: www.imsu.edu.ng and click on admissions on the top menu of the home page.
You will be directed to the admission section of the portal, click on apply for 2021/2022 post utme/direct entry and select either post utme or direct entry.
Sign up with your jamb registration number, email and password.
Verify your email from your email account and return to the portal to pay the post utme/direct entry fee of N2000.
Pay with your card online or generate the reference number and go to any bank branch of your choice to pay physically at the bank and then return to continue your application
If you made the payment successfully, you would be asked  to click on continue your application and at this point, you will access the application form.
Fill the form completely and correctly and the click on submit at the bottom of the form
After submitting your application form, print the acknowledgement slip and come to the university with it on the screening day to be announce by the university soon.
Registration Deadline
Portal for registration closes on 29th October, 2021
Aptitude Test Date
The specific date will be communicated in due course.
Note:
>> Every candidate must provide a valid Email, address and phone number
>> All applications must be filled and submitted online before the closing date
>> Any wrong Information disqualifies a candidate
IMSU portal opens 18th October and closes 29th October, 2021
Courses offered in IMSU
We have put together a complete list of all the courses offered currently at IMSU.
Below is the list of high quality courses offered at Imo State University.
Faculty Of Agriculture & Veterinary Medicine
Agric. Economics, Extension & Rural Dev.
Animal science and Fisheries
Crop Science And Biotechnology
Soil Science and Environment
Faculty Of Management Sciences
Hospitality and Tourism Management
Marketing
Accountancy
Banking and Finance
Insurance and Actuarial Science
Management Studies
Faculty Of Education
Education Accounting
Education and Biology
Education and Chemistry
Education and Christian religious studies
Education and Economics
Education and English language
Education and French
Education and Geography
Education and Government
Education and History
Education and Mathematics
Education and Physics
Education and Religious Studies
Education Fine and Applied Arts
Education Foundations and Administration
Education Administration
Library and Information Science
Guidance and Counseling
Faculty Of Engineering
Agricultural Engineering
Electrical & Electronic Engineering
Civil Engineering
Food Science & Technology
Mechanical Engineering
Faculty Of Environmental Science
Also See; Is Imo State University Tuition-Free? All You Should Know About Their Tuition Fee 2021
Architecture
Building
Urban and Regional Planning
Quantity  Surveying
Fine & Applied Arts
Estate Management
Faculty Of Health Science
Optometry
Medical Laboratory Science
Nursing Science
Nutrition and Dietetics
Faculty Of Humanities
Religious Studies
French
History and International Studies
Philosophy
Theatre Arts
Linguistics and Igbo
English language and Literary Studies
Faculty Of Law
Faculty Of Medicine
Faculty Of Sciences
Animal Science and Environmental Biology
Plant Science and Biotechnology
Physics/Industrial Physics
Chemistry/Industrial Chemistry
Microbiology/Industrial Microbiology
Biochemistry
Mathematics
Statistics
Computer Science
Faculty Of Social Science
Economics
Psychology
Geography & Environmental Management
Political Science
Sociology
Mass Communication
IMSU Post UTME Screening Examination Format
The IMSU usually sets questions on just three(3) subjects which are Mathematics, English Language and Current Affairs irrespective of your course of study or program.
The format for IMSU post UTME exam (number of questions per subject) is as follows:
English Language = 20 Questions
Maths = 10 Questions
Current Affairs =10 Questions
Total = 40 Questions
Time to take Test = 30 Minutes.
Total Post-UTME Score = 100 Marks
All IMSU aspirant should
click here
 to join IMSU post UTME and Direct entry information group to stay abreast with latest information concerning IMSU post UTME.
More so,
As IMSU Post Utme and Direct Entry Registration will commence on Monday 18th of October 2021 and end on the 29th of October 2021.
Interested applicants who chose Imo State University, Owerri as their first choice of institution and scored 150 and above can contact Divine Portal on 07062237559 or visit DIVINE PORTAL BUSINESS CENTER located at IMSU Extension Gate, Owerri to buy and fill the online application form.
Candidates who chose IMSU as their SECOND CHOICE can also apply on the condition that they will buy Jamb Change of Institution form and change their first choice of Institution to IMSU.
Those who are not in Owerri but wants DIVINE PORTAL business center to buy and process the form for them should contact Divine Portal via our WhatsApp official account on 07062237559.
NB: Please make sure you always confirm that you are at Divine Portal office by Contacting the office number on 07062237559 before making any payment.
We will not be responsible for any business transaction not done with us through our official WhatsApp business account (07062237559) or physically at our business center located at IMSU extension gate
Divine Portal
07062237559
Admin
imsuinfo.com
IMSU Info contains over 1000 project material in various departments, kindly select your department below to uncover all the topics/materials therein.