Download IMSU Updated Past Questions and Answers (PDF) Art & Science, 2021 Edition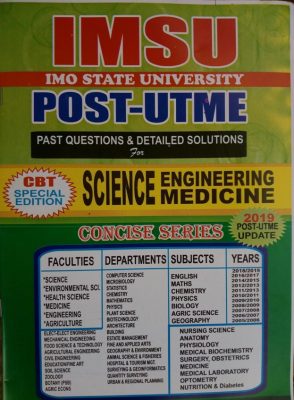 Download IMSU Updated Past Questions and Answers (PDF) Art & Science, 2021 Edition
Are you an aspiring IMSU candidate? Do you wish to partake in the upcoming Post UTME examination? If yes! Now, sit back and relax as we have invested our time to compile IMSU post-UTME past questions and answers that will help you prepare for your post UTME examination, otherwise known as the screening test or aptitude test.
The IMSU post utme past questions and answers are available in PDF format. You can download and print. You can also read it on your phone or computer.
What you missed; How much is IMSU current school fees and how to pay
One of the frequent questions I do get from students on Post UTME is – Do Imo state University repeat Post UTME questions? My response has always been – yes they do.
However, the way IMSU repeat Post UTME questions is a little bit tricky, and sometimes they do it directly. All candidates who are writing Post UTME this year must know that Post UTME Exam secret lies in mastering past questions.
Benefits of Studying IMSU Post UTME Past Questions and Answers
Majority of universities or Polytechnics may not have the time to set new questions. And all they do is to pick questions from past UTME questions of which IMSU is not an exception. In light of this information, It is now required of you to treat all UTME past questions for you to pass post-UTME successfully.
Interestingly, a candidate with a high jamb score of 350 but ended up with a low Post UTME cannot gain admission into the Imo State University (IMSU). However, a candidate with a JAMB score not below the cutoff mark and with a high Post UTME can gain admission.
Therefore, even if you score high in JAMB, don't relax thinking your admission is sure. That being the case, you have to buckle up too in your post UTME to stand a chance of gaining admission into Imo State University (IMSU).
Related Article; Difference Between IMSU General and Departmental Cut-off Marks
Other Benefits
1. However, it gives you useful insights into the nature of questions to expect and helps you avoid unpleasant surprises.
2. In addition, it will be easy for you to recognize repeated questions and answer them with ease and speed.
3. Similarly, gives you knowledge on the number of questions given and allocated time.
4. Equally important, it gives exposure to the marking scheme
Furthermore, scoring  290 in your JAMB doesn't mean you should relax. And, then 5 days to exams you prepare for the screening test. The reality is, you will get a bad result. However, the best choice is to get the complete set of the Post UTME past questions and start studying immediately after your UTME exams are concluded. During the rush hour which is few days left, most students tend to search for free Post UTME past questions online that are not authentic.
Over the years, we've received SMS & call from aspiring candidates for past questions and answers, not only that, we've also received lots of testimonies from aspirants-turn-students of the tremendous role past questions played in gaining them admission.
IMSU Post UTME Screening Examination Format
The IMSU usually sets questions on just three(3) subjects which are Mathematics, English Language and Current Affairs irrespective of your course of study or program.
The format for IMSU post UTME exam (number of questions per subject) is as follows:
English Language = 20 Questions
Maths = 10 Questions
Current Affairs =10 Questions
Total = 40 Questions
Time to take Test = 30 Minutes.
Total Post-UTME Score = 100 Marks
IMSU Available Courses
We have put together a complete list of all the courses offered currently at IMSU.
Below is the list of high quality courses offered at Imo State University.
Faculty Of Agriculture & Veterinary Medicine
Agric. Economics, Extension & Rural Dev.
Animal science and Fisheries
Crop Science And Biotechnology
Soil Science and Environment
Faculty Of Management Sciences
Hospitality and Tourism Management
Marketing
Accountancy
Banking and Finance
Insurance and Actuarial Science
Management Studies
Faculty Of Education
Education Accounting
Education and Biology
Education and Chemistry
Education and Christian religious studies
Education and Economics
Education and English language
Education and French
Education and Geography
Education and Government
Education and History
Education and Mathematics
Education and Physics
Education and Religious Studies
Education Fine and Applied Arts
Education Foundations and Administration
Education Administration
Library and Information Science
Guidance and Counseling
Faculty Of Engineering
Agricultural Engineering
Electrical & Electronic Engineering
Civil Engineering
Food Science & Technology
Mechanical Engineering
Faculty Of Environmental Science
Also See; Is Imo State University Tuition-Free? All You Should Know About Their Tuition Fee 2021
Architecture
Building
Urban and Regional Planning
Quantity  Surveying
Fine & Applied Arts
Estate Management
Faculty Of Health Science
Optometry
Medical Laboratory Science
Nursing Science
Nutrition and Dietetics
Faculty Of Humanities
Religious Studies
French
History and International Studies
Philosophy
Theatre Arts
Linguistics and Igbo
English language and Literary Studies
Faculty Of Law
Faculty Of Medicine
Faculty Of Sciences
Animal Science and Environmental Biology
Plant Science and Biotechnology
Physics/Industrial Physics
Chemistry/Industrial Chemistry
Microbiology/Industrial Microbiology
Biochemistry
Mathematics
Statistics
Computer Science
Faculty Of Social Science
Economics
Psychology
Geography & Environmental Management
Political Science
Sociology
Mass Communication
Download IMSU Updated Past Questions (PDF) Art & Science
---
All IMSU aspirant should click here to join IMSU post UTME and Direct entry information group to stay abreast with latest information concerning IMSU post UTME.
IMSU Info contains over 1000 project material in various departments, kindly select your department below to uncover all the topics/materials therein.