IMSU commences payment of acceptance fee and pre admission screening test for newly admitted students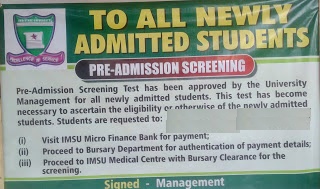 IMSU commences payment of acceptance fee and pre admission screening test for newly admitted students
This is to inform all the newly admitted students of Imo State University that the school management has approved the payment of acceptance fee and pre admission screen test.
All candidates that has been admitted on JAMB Caps can now proceed to make the above listed payments while awaiting other processes which will be outlined later by the school authority.
Related article; IMSU Commences 2020/2021 supplementary application; see how to apply and list of available courses
How to pay for acceptance fee
Candidates who have been admitted and accepted the offer of admission made to them in JAMB CAPS, Must:
1. Visit the Bank and make Acceptance fee Payment using "Imo State University Pay Direct" platform only.
2. Carefully entering their JAMB REG NO/NAMES/PHONE NO/DEPT ADMITTED
3. Generate and print receipt.
How to pay for pre admission screening test
visit Imsu micro Finance bank or Divine Portal outlet for payment
Proceed to Bursary Department for authentication of payment details;
Proceed to imsu medical centre with bursary clearance for the screening.
All concerned students should stay turned as more information about this unfold.
Also See; How to check and accept your admission on JAMB caps with your smart phone or PC
Also all admitted students are advised not to make any payment unless as directed by the school management.
Those who need any form of help or guidance should contact Divine Portal. Chat us by clicking on the Whatsapp icon on the left hand side of your screen or go to the site contact page and get our call line.
IMSU Info contains over 1000 project material in various departments, kindly select your department below to uncover all the topics/materials therein.