Notice on the conduct of 2019/2020 second semester GST exam by CBT test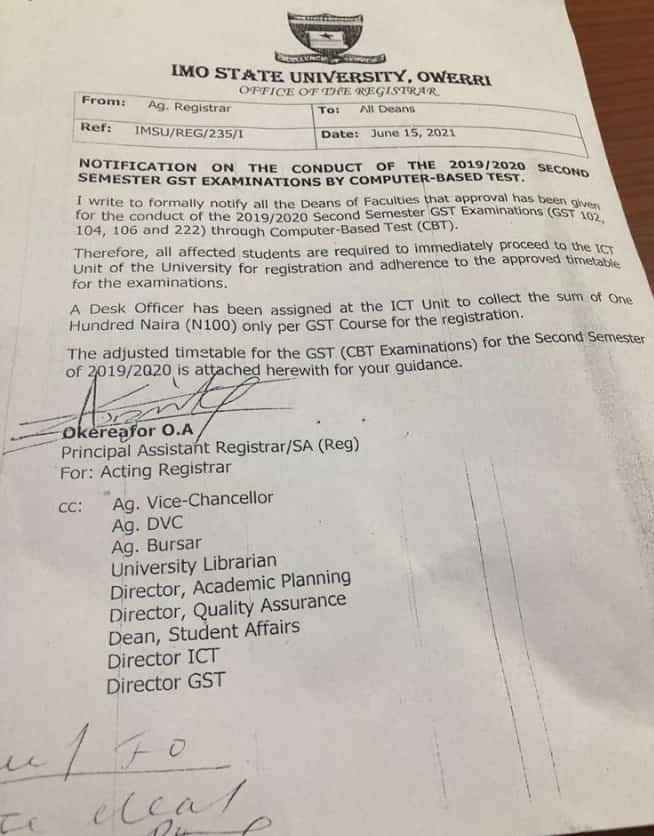 Notice on the conduct of 2019/2020 second semester GST exam by CBT test
The registrar writes to all deans concerning the upcoming GST CBT examination.

I write to formally notify all the Deans of Faculties that approval has been given for the conduct of the 2019/2020 second semester GST Examinations (GST 102, 104, 106 & 222) through computer based test (CBT)
Notice to affected students
Therefore, all affected students are required to immediately proceed to the ICT unit of the university for registration and adherence to the approved time table for the examination.
A desk officer has been assigned at the ICT unit to collect the sum of one hundred naira only (N100) only per  GST course for the registration.
The adjusted timetable for the GST CBT examination for the second semester of 2019/2020 is attached herewith for your guidance.
IMSU Info contains over 1000 project material in various departments, kindly select your department below to uncover all the topics/materials therein.