IMSU JAMB regularization Requirements and procedure "also applicable to other higher institutions"
On this article, we are going to talk about IMSU JAMB regularization requirements and procedures. But before we jump into the main subject, we'll like you to understand what regularization is all about.
What is JAMB regularization
JAMB regularization is an exercise by the Joint Admission Matriculation Board to provide solutions to issues involved in students' admissions. These issues may likely hinder such candidates from graduating properly from the university and mobilizing for NYSC.
Also See; How to Check your Name on JAMB Matriculation List 2021 Updated
JAMB Regularization is the process of ensuring that JAMB validates candidates current admission details with the school that offered admission to such candidates.
This is done on JAMB database with the aim of either granting one a gateway of securing admission via direct entry or proceed for service.
Also, JAMB Regularization simply means the reconciliation of your OND/ND/NCE/HND admission between your institution and JAMB. JAMB regularization is also known as 'LATE APPLICATION' on JAMB website.
JAMB Late Application (formerly referred to as "regularization") provides an opportunity for candidates that are in any institution but with no JAMB registration number.
Purpose of JAMB Regularization
– The purpose of regularization is to ensure that JAMB has your current admission details that tally with the admission/registration record in the school that offered you admission.
– This allows candidates with admission but with no prior record with JAMB ability to register on the platform.
Who is JAMB Regularization meant for?
Finally, let state the categories of people to do regularization
What you missed; Steps on how to check your name NYSC senate list (updated)
1. Not offered admission by the Joint Admission and Matriculation Board: if your school list is out and your name is there then check your jamb admission status and see "admission not yet
given". You are among those who need to do it to have access to your admission letter printing.
2. Course offered by JAMB and school is not the same: In a case whereby you are to study
accounting in school then JAMB gives you finance. Kindly go for this. Although the Joint admission
and matriculation board has been trying to curb this which brings about the central admission
processing (CAPS) you can navigate through our website to read articles on this.
3. Letter of admission revoked: after accepting your admission through CAPS, if your course is
different from the one offered by the school, there is a need for you to change it. Failure to do so,
your admission will be revoked/terminated. You will be unable to print your admission letter if you
are a victim of this, the remedy is regularization.
4. Entry mode does not require Jamb: We have some students whose mode of admission is not by Jamb such as the part-time (PT) and Direct Entry (DE) student. These people should regularize their admission to the current course they are studying.
How to check online whether you are regularizing or not
Use the link below to check your admission status
Click on the link below and enter your year of admission and JAMB registration number the submit and wait for the response.
https://portal.jamb.gov.ng/efacility/checkmatriculationlist
There are 5 different messages, one of which you will encounter as you check your status on jamb matriculation list.
1). Congratulations
2). Kindly print jamb admission letter
3). Kindly print jamb result slip
4). Kindly print jamb admission letter and result slip
5). You are not given admission yet.
A) For students that got "congratulations…" as prompt message, you have been confirmed by jamb, hence you will be mobilized for NYSC for the graduates
B). For students that got " kindly print jamb admission letter" as prompt message, you are to visit a cyber café outlet to print out your admission letter immediately.
C). For students that got "kindly print JAMB result slip" as prompt message, you are to visit a cyber café outlet to print out your result slip immediately. This message is usually applicable to Direct Entry Students.
D). For students that got " kindly print JAMB admission letter and result slip" as prompt message, you are to visit a cyber café outlet to print out JAMB admission letter and result slip" immediately.
And lastly,
E). For students that got "You were not offered admission" as prompt message should immediately proceed for regularization of admissions. A form will be generated online which should be submitted to the Vice Chancellor and expect a response via email from jamb. The message will direct you to print out your admission letter.
How long does JAMB regularization take to be approved?
After a successful regularization, it shouldn't take up to a month to be approved. At least maximum of two months if there be any delays.
Regularization Requirement
The form below contains the requirement for regularization.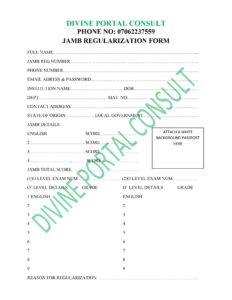 JAMB Regularization Procedure
1. You shall be required to create a profile via the Sign Up (New User) Page if you are a new user. For existing users, simply type in your login details. To create your profile, you will provide your valid email address, surname, first name, Mobile No, State and LGA of Origin and password, then click on the Sign Up button. Each candidate is entitled to only one profile.
2. Subsequently, you shall use your email address and password to sign in.
3. Once logged in, you will be taken to the landing page where you will see all available services.
4. Select "Late (Retroactive) Application". This is available on the sidebar
5. Once selected, the menu item "Late Application" will be revealed. Click this.
6. Once you select this service, a Transaction ID is generated for this service. This will be displayed on the confirmation page screen.
7. Review the details displayed on the Confirmation Page. Also, note the Transaction ID displayed in a bold red font. The Transaction ID is useful for all future references concerning the Transaction. A copy of this transaction ID will be sent to your registered email address.
8. Click on the Continue button if you wish to pay with your card immediately. If you wish to use other payment channels like ATM, Cash at the Bank or Quickteller, please note the transaction ID as it will be required.
9. On the Interswitch Payment page, enter your card details and click on the Pay button.
10. The status of your payment will be displayed on the "My Payment Section" An SMS and email containing your unique Transaction Identification and payment status will be sent to you after payment. Click on the Continue button.
11. Once payment is completed, you will be asked to provide the following:
a. Year of Exam and
b. JAMB Registration Number
12. After entering the information correctly, the application form will be displayed. You are to fill the application form online. Please take note of mandatory fields.
13. Click Submit to complete your application
14. After submission, an Indemnity Form will be displayed for printing.
15. This is to be filled and taken to your institution for Approval.
16. Your institution will be responsible for submission of the approved form to the JAMB state office.
17. Once received, the Approved form will be uploaded to your profile. You will receive a notification when this is done.
18. JAMB will now process your application. If Approved, your details will be changed as requested.
What next, after approval of regularization
After approval, candidate should print his/her JAMB admission letter.
Where to do JAMB regularization
Looking for where to do your JAMB regularization, kindly visit any JAMB accredited centre at your location or
Contact Divine Portal on 07062237559 to pick up your regularization form and for quick and fast regularization services and also for further enquiries.
Location; IMSU Gate.