IMSU graduate wins award of best player in Kogi State orientation camp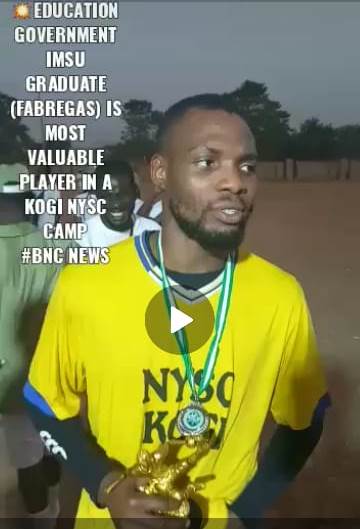 IMSU graduate wins award of best player in Kogi State orientation camp
A Graduate of Imo State University – Charles Ebere (aka Fabregas) from Education Government, Faculty of Education who is currently at his youth service in Asaya NYSC orientation camp in Kogi state, participated on a football tournament while in camp.
Fabregas was announced as MOST VALUABLE PLAYER IN THE TOURNAMENT and received the award ahead of other players in the camp?
In as much as his own team came second (runner up) on the tournament, Fabregas gave the other teams a run for their own money and earned his silverware as the MOST VALUABLE PLAYER ?
IMSU No de carry last ?
Reporting
#BNC?️
IMSU Info contains over 1000 project material in various departments, kindly select your department below to uncover all the topics/materials therein.