IMSU Induction/Oathtaking ceremony of class of 2020 doctors of optometry; see who emerged as best graduating student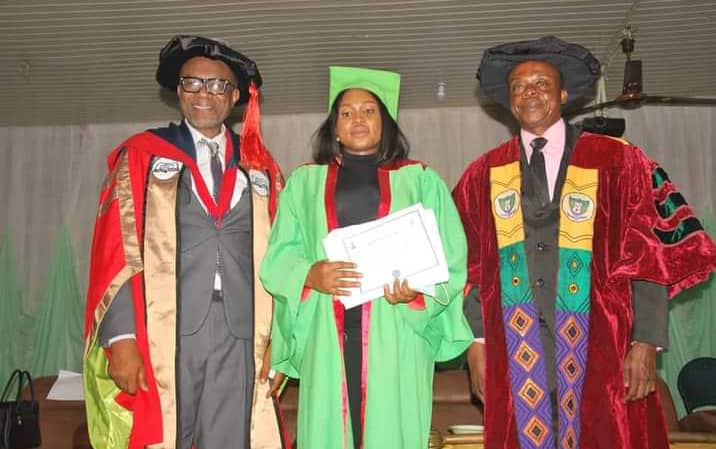 IMSU INDUCTION/OATHTAKING CEREMONY OF CLASS OF 2020 DOCTORS OF OPTOMETRY
DR ONWUJURU EMMANUELLA AFOLABI EMERGES BEST GRADUATING STUDENT
Imo State University (IMSU) class of 2020 Optometry graduands(Grace doctors) were inducted into the Optometrists and Dispensing Opticians Registration Board of Nigeria (ODORBN) today, Wednesday, 22nd December 2021.
The epoch making event took place at the University auditorium under the chairmanship of the Acting Vice Chancellor, Prof. Achunike Peter Akah and had in attendance high profile dignitaries such as ODORBN Registrar Prof Mrs Ebele Uzodike, Deputy provost college of Medicine, Prof. Jonathan Nnadozie, Dean Faculty of Health Sciences, Prof. Mrs C.O Asinobi , Prof. D. Agu, HOD IMSU Optometry Dr. Augustine Akujobi and others.
The Oath taking took place after they inductees were addressed by several dignitaries. Prof. Mrs Ebele Uzodike administered the oath as the newly qualified Doctors of Optometry were given their license.
Prof. Mrs Ebele Uzodike urged the newly inducted Doctors to be good ambassadors of the profession by delivering quality eye care to their patients.
In the course of the Induction, Dr Mrs Onwujuru Emmanuella Afolabi bagged an award as the best graduating student IMSU class of 2019/2020 Doctors of Optometry. She was awarded a cash price for her wonderful achievement.
Congratulations to the latest Doctors!!!
©IMSUBen Official
Director of information/ICT FOHSSA.
S-VOSH IMSU Director of Information
IMSU Info contains over 1000 project material in various departments, kindly select your department below to uncover all the topics/materials therein.