IMSU faculty clearance/screening procedures for 2020/2021 session
Information reaching imsuinfo has it that some faculty in IMSU has started faculty clearance and screening for 2020/2021 session newly admitted students.
On this post Divine Portal will share how to go about IMSU faculty clearance/screening.
To achieve the above, kindly read till the end of this article as I will outline the procedures on how to do your faculty clearance and get your matriculation number.
It is apparent that all student of IMSU acquire their mat number from their various faculties as it signifies that you are a full-fledged student.
What is IMSU faculty clearance/screening
IMSU faculty screening is the process whereby the faculty/clearance officer examines newly admitted students registration documents to know if such student is dully qualified or meet the requirements to be in the given department on the said faculty.
After admission, admitted students are invited to their various faculties for screening of documents. The student documents are examined closely to ensure that the student meet the requirement of the giving department.
Documents to be screened includes;
All listed document below is compulsory for faculty screening.
JAMB Print out
Original JAMB result
JAMB admission letter
Post UTME print out
Admission verification status printout
Acceptance fee payment receipt
School fees/ancillary fee payment receipt
IMSU admission letter
Attestation Letter
Local government Identification letter
Verified WAEC by the school
Primary school testimonial
Birth certificate
At least 4 copies of passport.
Note; WAEC and JAMB result is the most closely checked document. This is so because the clearance officer has to make sure that you have good grades in the required subjects for the given department. If not, such student will be transferred to another course at once.
Related Article; List of Accredited Courses Offered in Imo State University, Owerri (IMSU)
Your ability to follow the steps outlined below will lead you to a successful faculty clearance/screening.
How to do IMSU faculty clearance/screening
The processes involved in doing faculty screening  to get your matriculation number from your faculty in IMSU is not really an arduous task. It starts by you getting all the required documents which will be needed for the clearance/screening listed above.
Once all the above documents are readily available, simply go to your faculty with them to the office of the clearance/faculty officer.
He will scrutinize your documents and payment receipts to make sure you meet the departmental requirement and then, gives you four files.
Recommended; How to verify the authenticity of your admission in Imo State University (IMSU)
After collecting the four files, you are expected to fill it and and return it with the photocopies of the above listed documents placed in each of your file.
Immediately four files are returned, you will be issued your matriculation number.
Looking for where to make payments, kindly head straight to IMSU extension gate as we assist you and guide you as well.
below are the prices and instructions on where to get your documents.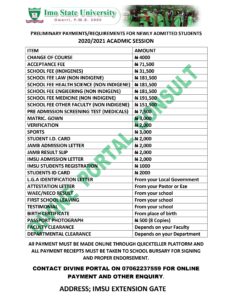 Those who need any form of help or guidance should contact Divine Portal. Chat us by clicking on the Whatsapp icon on the left hand side of your screen or go to the site contact page and get our call line.