Courses available on IMSU 2021/2022 supplementary form, requirements, deadline and how to apply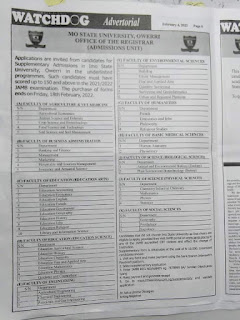 Courses available on IMSU 2021/2022 supplementary form, requirements, and how to apply
Applications are invited from candidates for Supplementary Admissions in Imo State University, Owerri in the under listed programmes. Such candidates must have scored up to 150 and above in the 2021/2022 JAMB examination.
>>FACULTY OF AGRICULTURE & VET MEDICINE
Department
1 Agricultural Economics
2 Animal Science and Fisheries
3 Crop Science and Biotechnology
4 Food Science and Technology
5 Soil Science and Soil Management
>>FACULTY OF BUSINESS ADMINISTRATION
Department
1 Banking and Finance
2 Management
3 Marketing
4 Hospitality and Tourism Management
5 Insurance and Actuarial Science
>> FACULTY OF EDUCATION (EDUCATION ARTS)
Department
1 Education Accounting
2 Education Economics
3 Education English
4 Education French
5 Education Government
6 Education Geography
7 Education History
8 Education Igbo
9 Education Religion
10 Library and Information Science
>> FACULTY OF EDUCATION (EDUCATION SCIENCE)
Department
1 Education Agricultural Science
2 Education Biology
3 Education Chemistry
4 Education Fine and Applied Arts
5 Education Mathematics
6 Education Physics
7 Guidance and Counselling
>> FACULTY OF ENGINEERING
Department
1 Agricultural Engineering
2 Chemical Engineering
3 Petroleum and Gas Engineering
>> FACULTY OF ENVIRONMENTAL SCIENCES
Department
1 Building
2 Estate Management
3 Fine and Applied Arts
4 Quantity Surveying
5 Surveying and Geoinformatics
6 Urban and Regional Planning
>> FACULTY OF HUMANITIES
Department
1 French
2 Linguistics and Igbo
3 Philosophy
4 Religious Studies
>> FACULTY OF BASIC MEDICAL SCIENCES
Department
1 Human Anatomy
2 Physiology
>> FACULTY OF SCIENCE (BIOLOGICAL SCIENCES)
Department
1 Animal and Environmental Biology (Zoology)
2 Plant Science and Biotechnology (Botany)
>> FACULTY OF SCIENCE (PHYSICAL SCIENCES)
Department
1 Chemistry/Industrial Chemistry
2 Mathematics
3 Physics
4 Statistics
>> FACULTY OF SOCIAL SCIENCES
Department
1 Geography
2 Psychology
3 Sociology
Candidates that did not choose Imo State University as first choice are eligible to apply, provided they visit JAMB portal on www.jamb.gov.ng in any of the JAMB accredited CBT centers and effect the change of Institution.
Application Deadline
The purchase of forms ends on Friday, 18th February, 2022.
How to apply
1. Visit any bank and make payment using the bank branch Interswitch Paydirect platform.
2. Select supplementary application
3. Enter JAMB REG NO/NAMES eg. 7678999BA/ Sunday Okechukwu Iyang
4. Make payment and generate receipt
5. Go to www.imsuictblog.com.ng/supplementary and validate application.
Where to apply
Interested in getting supplementary form, Kindly contact Divine Portal on 07062237559 for fast registration
or visit our office @ IMSU extension gate. "Divine Portal Consult and Online Services" No 1 IMSU accredited online cervices Centre.
All IMSU aspirant should click here to join IMSU post UTME and Direct entry information group
IMSU Info contains over 1000 project material in various departments, kindly select your department below to uncover all the topics/materials therein.