IMSU academic calendar for 2020/2021 session released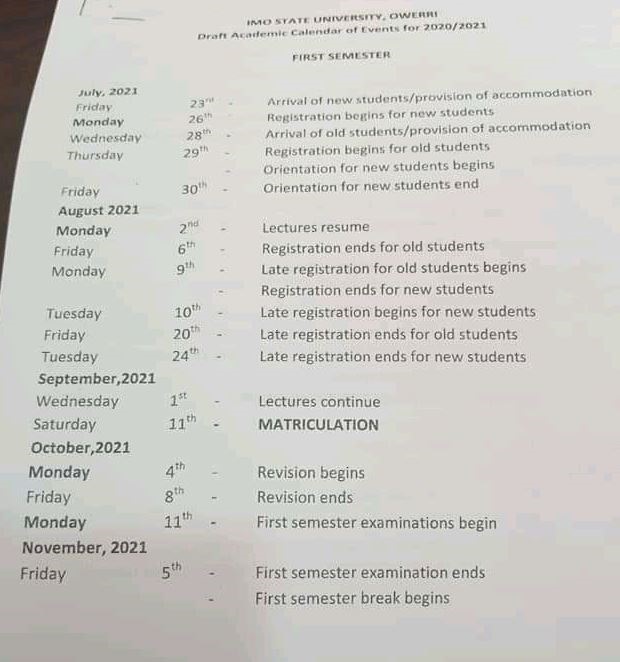 IMSU 2020/2021 ACADEMIC CALENDAR
IMSU academic calendar of activities for the 2020/2021 academic session is scheduled by the school authority as follows
FIRST SEMESTER
RESUMPTION — Friday 23rd July, 2021
WEEKS OF LECTURES — Monday 2nd August 2021 to Saturday 2nd October, 2021
REVISION — Monday 4th October 2021 to Friday 8th October, 2021
EXAMINATION — Monday 11th October to Friday 5th November, 2021
All old and returning students (including year ones) of Imo State University are by this notice informed that the university resumes 2020/2021 academic session on Friday 23rd July, 2021.
NB: All Fresher's should endeavor to get their documents ready and make the necessary payments such as acceptance fee, sports, matric gown and verification etc. as requested by the school authority before resumption, as Faculty screening or clearance will commence immediately after Resumption.
To those who are having serious admission issues should visit the university Admission unit for proper response.
For those who want to pay Acceptance Fee, IMSU Sundry payments, Pre Admission Screening Test and Printing of admission Letters should kindly contact Divine Portal on
07062237559
Address; IMSU extension gate
SHARE TO ALL CONCERNED PERSON
SECOND SEMESTER
RESUMPTION- Friday 12th November, 2021
WEEK OF LECTURES- Monday 15th November 2021 to Friday 28th January, 2022.
CHRISTMAS BREAK- Wednesday 22nd December 2021
CONVOCATION CEREMONIES- January 17th to 22nd ,2022
REVISION- Monday 31st January to Friday 4th February 2022
SECOND SEMESTER EXAMINATION- Monday 7th February to Friday 29th February, 2022- End of 2020/2021 session.
IMSU Info contains over 1000 project material in various departments, kindly select your department below to uncover all the topics/materials therein.