National Union of Imo State Students (NUISS) 8th republic officials inaugurated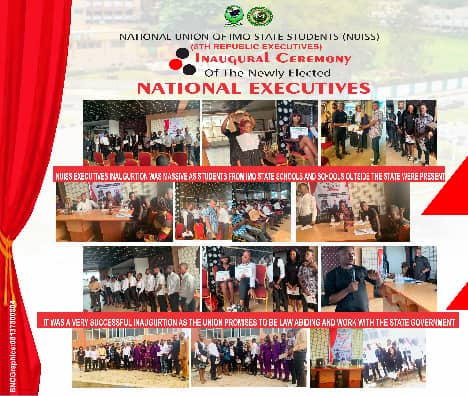 NATIONAL UNION OF IMO STATE STUDENTS (NUISS) 8TH REPUBLIC OFFICIALS INAUGURATED YESTERDAY; 28TH JULY 2021.
I delightfully wish to announce that all the elected National officials of National Union of Imo State Students (NUISS) that passed thorough series of screenings before elections, engaged in a transparent election exercise and were voted in by Imo State Students have today been inaugurated as Bonafide national officers of the Supreme Students Union of all Imo students at home and in diaspora.
Our National Grand Patron /Governor of Imo State; Sen. Hope Uzodinma was invited as the special guest of honour occasion (though represented). Professor Martins Nwankwo of Imo State University was the Guest Speaker of the day. The commissioner of police (represented). Vice Chancellors of FUTO Prof Nnena Oti sent representatives, IMSU Vice Chancellor Prof Peter Achinike Akah and IMSU Dean of Students Affairs Prof Okee Okoro sent their representatives.
The SUG President of Federal University of Technology, Owerri, Comr Madu Kennedy and his executives, members of Imo State Students Judicial Arm, NUISS North West chapter ably represented by Comr. Declan Ejiofor of Federal Polytechnic Kaduna, Comr. Obioma Nzubechukwu of Usman Danfodio University Sokoto for NUISS North East chapter, Comr. Chikaodiri Nwakaebeya of Nasarawa state University Keffi for NUISS North Central, Comr. Chijioke Julius of Rivers state University of Science and Technology for NUISS south-south and Comr. Uzoamaka Nwaoha of Lagos state University for NUISS South west chapter, representatives of various students union, National Presidents of all the 27 Local Government student associations in Imo state, representatives of the legislative council of Alvan Ikoku federal college of Education, Owerri, officials of Nigerian Students Parliament (NSP) and representatives of National Association of Nigerian Students (NANS) were all present in solidarity.
The NUISS Chief Judge; Her Lordship, Justice Divine Eronini was specially Inaugurated by the NUISS Electoral chairman/ BoT representative; Comr. Charles Obiefule. After which her lordship (Chief Judge) with the powers inherited by law dissolved the NUISS 7th republic and then inaugurated the firebrand 8th republic officials led by Comr. Bestman Ahamba (National President of NUISS).
THE NUISS SENDS A HUGE MESSAGE TO THE PEOPLE OF THE STATE, ESPECIALLY IMO STATE STUDENTS ON HOW PEACEFUL THEY ARE AND PROMISES TO ENSURE CREDIBILITY IN GOVERNANCE.
THE GOVERNMENT OF IMO STATE REMAINS THE SOLE AUTHORITY WHICH NUISS WORKS UNDER IN ACCORDANCE TO NUISS CONSTITUTION AND THE LAWS OF THE STATE OF IMO.
We thank the Honourable Commissioner for Youths and Sports, Hon. Dan Ogu, the NUISS Chancellor; Amb. Godstime Chukwubuikem Samuel, the NUISS National Adviser; Hon. Chukwunonye Irouno and all who honored our invitation as we pledge to give our best within the stipulated time frame of our tenure.
?-??????:
Comr. Ahamba Bestman
Pʀᴇsɪᴅᴇɴᴛ
Comr. Samuel Miracle
General Secretary
Announcer??
Brilliant Chisomaga Ndubuisi
MINISTER OF INFORMATION
IMSU Info contains over 1000 project material in various departments, kindly select your department below to uncover all the topics/materials therein.