IMSU Post UTME result for 2023/2024 admission candidates released; see how to check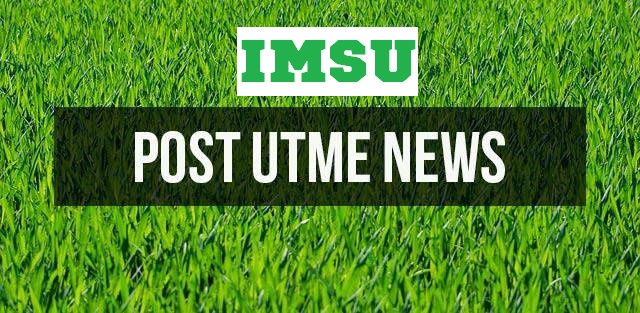 IMSU Post UTME result for 2021/2022 admission candidates released; see how to check
The long awaited Post UTME result is finally out
This is to inform all IMSU 2021/2022 admission applicants who successfully sat for the post UTME screening examination that IMSU Post UTME screening result is out online for candidates to check.
How to check 2023/2024 Post UTME result
Kindly follow the steps below to check IMSU post UTME result.
Firstly, Go to the school microfinance and make post UTME result payment. (500 naira only)
After 24 hours of payment, Kindly Click the result checker link below to view result
https://imsuonline.edu.ng/Putme_DE/
After clicking the link, kindly enter your jamb registration number and search the result database your result will pop up immediately.
Kindly note that if you dont make payment at the bank, your result will not be displayed.
How To Calculate IMSU Aggregate Score For 2023/2024
To correctly calculate your aggregate, know that the JAMB Examination is made up of 400 marks, whereas the IMSU Post UTME total score score is 400marks.
Divide your JAMB score by 8,
Divide your Post UTME score by 2,
Add up the result to get the aggregate score.
Illustration
If Treasure scored 240 in her JAMB and 80 in her Post UTME, then her Aggregate score can be gotten by following these steps.
240/8= 30
80/2= 40
40+ 30= 70
Treasure's aggregate score is 70.
Result Challenges
Prospective Students who sat for IMSU Post UTME exams and have checked their results but having issues of "no result or not being able to access there results.
The complain has been made to the ICT:
Response
1. It's either the candidates did not sit for the Aptitude Test .
2. Inserted wrong Jamb Registration number During the exam.
3. Couldn't or didn't submit after the Aptitude Test.
The site saying No results means the candidate has no results in the post UTME database and are by notice informed to keep checking their results.
If the hitch or issues persist or continues after January 3rd, candidate should report to IMSU ICT building For assistance and Remedy to the issue.
All IMSU aspirant should click here to join IMSU post UTME and Direct entry information group
As post UTME result is out, while waiting for Admission list, Divine Portal urges all aspirants to upload their O level result to JAMB caps as it is essential for admission process to avoid story that touches the heart.
To Upload you O'level result or any other internet services, kindly patronize us at Divine Portal Consult
Address; Imo State University, Owerri
Hot-Line 07062237559
Note; Your presence is not needed during the upload, we can do upload for you no matter your location while you follow the steps listed above to verify.
If you find this article interesting, why not share it with your friends too.
IMSU Info contains over 1000 project material in various departments, kindly select your department below to uncover all the topics/materials therein.