How to Detect Original and Fake JAMB Slip/JAMB Admission Letter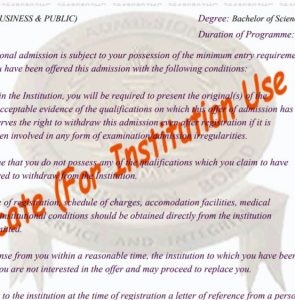 How to Detect Original and Fake JAMB Slip/JAMB Admission Letter
On this post we are going to talk about how you can know and verify if your JAMB slip and JAMB admission letter is original.
It came to my knowledge that most café and online business Centre's do fake Original JAMB result and JAMB admission letter for students in Imo State University, Owerri and other schools respectively without the candidate knowing if its legit or not. All they do is edit an already made document instead of printing the original which requires online payment.
Recommended; How to Check if your O'level Result Has Been Uploaded On JAMB CAPS Using Your Smart Phone or PC
Below are some means you can detect if your JAMB result slip/JAMB admission letter is legit or not. these means includes;
QR barcode
Water mark
Current registrar name & signature
JAMB Matriculation list
Payment Notification
Log into your dashboard
QR barcode
Every admission letter and original jamb slip should carry a QR barcode, Initially the jamb admission letter and jamb slip do not carry the QR barcode and that was from 2017 downward. As from 2018 upwards Jamb added the QR barcode as they discovered that many people were doing fake Jamb admission letter and jamb result, the QR barcode was added to eliminate fake jamb letter and result.
If your Jamb admission letter or Original jamb slip is not carrying a QR barcode, that is a red flag. which means its fake. and because its fake, your school will reject it.
Water mark
Water mark is placed on the background of any document which serves as the security of that document.
Jamb uses the candidates registration number as the water mark on admission letter and Original Jamb result of every candidates, these water mark is placed at the background of the admission letter and original jamb result in such a way that it will not interfere with the main information therein, its usually faintly (Not clearly seen but visible). If your Jamb admission letter is not having this water mark its fake.
NOTE: JAMB admission letter is always two copy and carries another water mark which is written candidate use and institution use only. written in orange color and place in slanting form.
Current registrar name & signature
The current Registrar of Jamb is Dibu Ojerinde an his signature below
Note: The registrar's name and signature only appears in the JAMB admission letter.
JAMB Matriculation list
Once you print out your JAMB admission letter and Original jamb result, your name is expected to be on the JMAB matriculation list.
See How to check your name on the jamb matriculation list here
Also Read; Jamb Subject Combination for Popular Courses in Nigeria
Payment Notification
Before Printing jamb admission letter and original jamb result a payment of 1000 Naira is bound to be made, immediately this payment is made, you are supposed to receive a notification on your mail about the successful and failed payment.
Log into your dashboard
See how to log into you dash board to confirm the legitimacy of your original Jamb result and admission letter here
For enquiry or if you want to print your original jamb result and admission letter kindly call Divine Portal on 07062237559
Address; IMSU extension gate owerri, Imo State.
IMSU Info contains over 1000 project material in various departments, kindly select your department below to uncover all the topics/materials therein.