AIR Force Institute Of Technology (AFIT) Announces Result For 2023/2024 Academic Session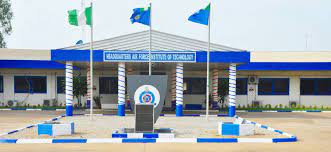 AIR Force Institute Of Technology (AFIT) Announces Result For 2023/2024 Academic Session
AIR FORCE INSTITUTE OF TECHNOLOGY (AFIT) ANNOUNCES 2023/2024 POST UTME RESULTS: HERE'S HOW TO CHECK YOURS.
The long-awaited Post UTME results for the 2023/2024 academic session at AFIT have been unveiled? Eager
to know your score in the National Diploma (ND) and Degree Programmes? The Air Force Institute of Technology has
some news for you
In a pivotal update for students aiming to be part of the esteemed Air Force Institute of Technology (AFIT) community, the management has unveiled the Post UTME results for the 2023/2024 academic session. This is specifically for those who applied for the National Diploma (ND) and Degree Programmes.
| | |
| --- | --- |
| ???? Institution | Air Force Institute of Technology (AFIT) |
| ???? Session | 2023/2024 Academic Session |
| ???? Programmes | National Diploma (ND) and Degree Programmes |
| ???? Announcement | Release of Post UTME results |
| ???? Check Online | Results available on the school website |
| ????️ How to Check | Supply JAMB registration, select programme, click Submit |
| ???? Cost | Checking the result is free |
| ???? Admission Update | Admission status updated on individual candidate's dashboard |
Students who stepped forward and participated in the screening exercise can now breathe a sigh of relief, as their performance metrics are now accessible online. And the best part? No fees are attached to this process – checking the result is completely complimentary.
How to Seamlessly Access Your AFIT Post UTME Result
For those eager to know how they fared, follow this step-by-step guide to retrieve your score:
1. Navigate to the Official Portal
Begin by heading to the dedicated AFIT Post UTME result portal: https://portal.afit.edu.ng/putme_result/.
2. Input Your Details
Once there, you'll need to provide your JAMB registration number in the allocated space. This serves as your unique identifier.
3. Choose Your Programme
Specify the programme you've applied for. This could be either Degree or ND (National Diploma).
4. Retrieve Your Score
With your details accurately inputted, simply click the 'Submit' button. Voilà, your AFIT post UTME score will be presented to you.
A Noteworthy Update for AFIT Applicants
To further streamline the admission process and keep students in the loop, AFIT has also revised the admission status section. Every applicant will find a fresh update regarding their admission status directly on their dashboard. It's advised to periodically check this dashboard for timely updates.
In Conclusion
The journey to securing a spot at AFIT is both exhilarating and demanding. But with the results now out, applicants are one step closer to realising their academic dreams. Always stay informed and keep an eye on your dashboard for any new announcements. Best of luck to all aspirants!
IMSU Info contains over 1000 project material in various departments, kindly select your department below to uncover all the topics/materials therein.