UNIZIK hostel allocation and booking procedure, 2020/2021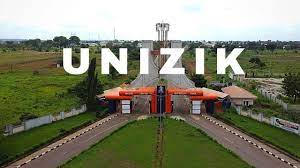 UNIZIK hostel allocation and booking procedure, 2020/2021
Nnamdi Azikiwe University Awka (UNIZIK), Hostel Management committee wishes to inform all the bona fide students of Unizik as well as newly admitted students who desire to be accommodated in the university hostels to follow the under outlined steps in order to procure their desired rooms and bed spaces:
Steps to procure your desired room or bed space
2. Click on Register.
3. Fill in your details (Note: upload your picture/passport)
4. Make payment of #8,700.00(Eight thousand seven hundred Naira only) for Hostel form/hostel Mgt/service charges.
5. Log into your dashboard.
6. Click on Reserve Room.
7. Choose the preferred Hostel and Room number.
8. Click on generate RRR code—Select a bed space.
9. Click on dashboard to view RRR code.
10. Open Remita.net
11. Click on pay other bills— Select e-invoice.
12. Copy RRR code from your dashboard and make payment.
13. Print out 3(three) copies of payment Receipt.
14. Proceed to the Student Affairs Office for physical clearance.
From:
Dean, Student Affairs Dept. Unizik Awka.
IMSU Info contains over 1000 project material in various departments, kindly select your department below to uncover all the topics/materials therein.