Student Loses Scholarship Over a Twerking Video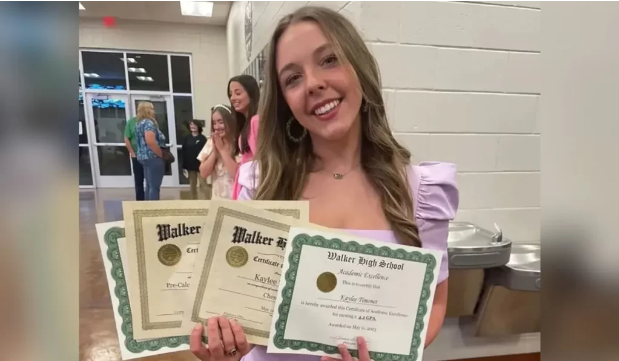 Student Loses Scholarship Over a Twerking Video
A Louisiana high school student lost her student government position and scholarship opportunities after a twerking video was shared on social media.
Most times, our actions whether voluntary or involuntary can either make or mere us.
A high school student in Louisiana who was offered a scholarship lost it due to some actions that was seen to be irrevocable.
Her college scholarship opportunities jeopardised when a video of her "twerking" at a homecoming after-party emerged on social media.
Kaylee Timonet, a senior at Walker High School, was seen dancing at a private homecoming afterparty on September 30 behind a friend who was twerking.
Earlier this week, the school principal said he would revoke her leadership role and assistance in scholarship applications.
Timonet told a local news outlet; "They basically told me that I should be ashamed of myself, that I wasn't basically following God's ideals, which made me cry even more.
I felt like my life was over. All I was doing was having innocent fun. I was mortified.
" The incident has sparked outrage and debate within the student body, with many sharing their support on social media by posting "Let the Girl Dance" banners. Some parents have compared the school's approach to the plot of the 1980s film Footloose.
Her mother, Rachel Timonet, who objected to the "unjust" punishment imposed on her teenage daughter said;
"They had other people dancing in that video who were on the dance team that nothing happened to. He said she was punished because she is the 'hood ornament' of the school."
IMSU Info contains over 1000 project material in various departments, kindly select your department below to uncover all the topics/materials therein.