IMSU special announcement on course registration and examination card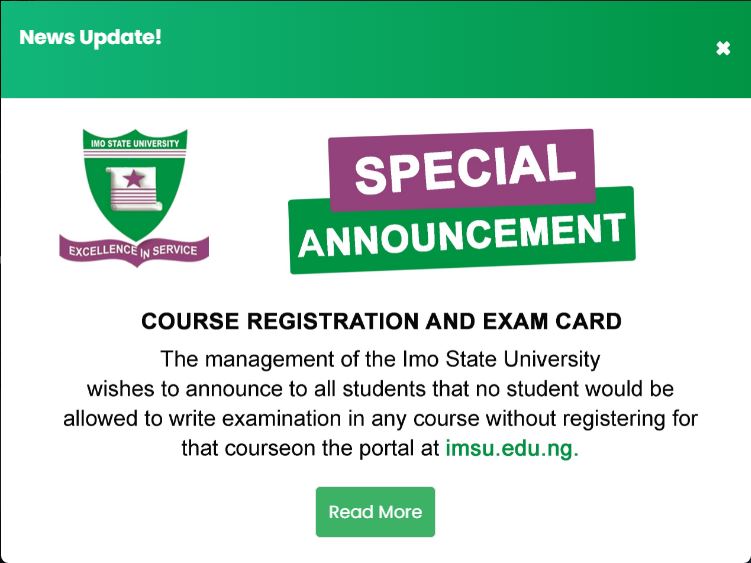 IMSU special announcement on course registration and examination card
The management of the Imo State University, Owerri (IMSU) wishes to announce to all students that no student would be allowed to write examination in any course without registering for that course on the portal at imsu.edu.ng,
In the light of the above information, all students are advised to register for their courses on IMSU portal to enable them get their examination cards with which will serve as a gate way or access to the examination hall.
What you missed; IMSU Commences Online Student Profile Creation (Student Registration) for New And Returning Students
The first semester Examination is slated to start on Monday October 11th.
Ensure you bring this card to the exam hall with which you would be cleared to write your exams.
To register your courses on IMSU portal you have to register on the portal, generally known as profile creation.
Steps to actualize the aforementioned
•    Visit the university website at: www.imsu.edu.ng
•    Click on portal and signup as student with your Jamb Registration Number
•    Complete your free registration
•    Pay or verify the payment of your school fees
•   Registration your courses and lastly,
•    Print your exam card
Importance of profile creation?
>> Verifies you as a bonafide student
>> Generating of Matric number
>> Course Registration
>> Enables recovery of lost receipt
>> Semester Results
>> Pay Acceptance fee and school fees.
>> Pay IMSU Sundry payments.
>> Verify all IMSU Payment made online.
To create your student profile, course registration and printing of exam, kindly visit Divine Portal Outlet at IMSU extension gate
Also contact Divine Portal for any assistance and for all your student related payment.
OUR CONTACT IS 07062237559
You can also chat us using the Whatsapp Icon at the bottom of your screen
IMSU Info contains over 1000 project material in various departments, kindly select your department below to uncover all the topics/materials therein.