IMSU GST/CBT update & examination time table for 2020/2021 academic session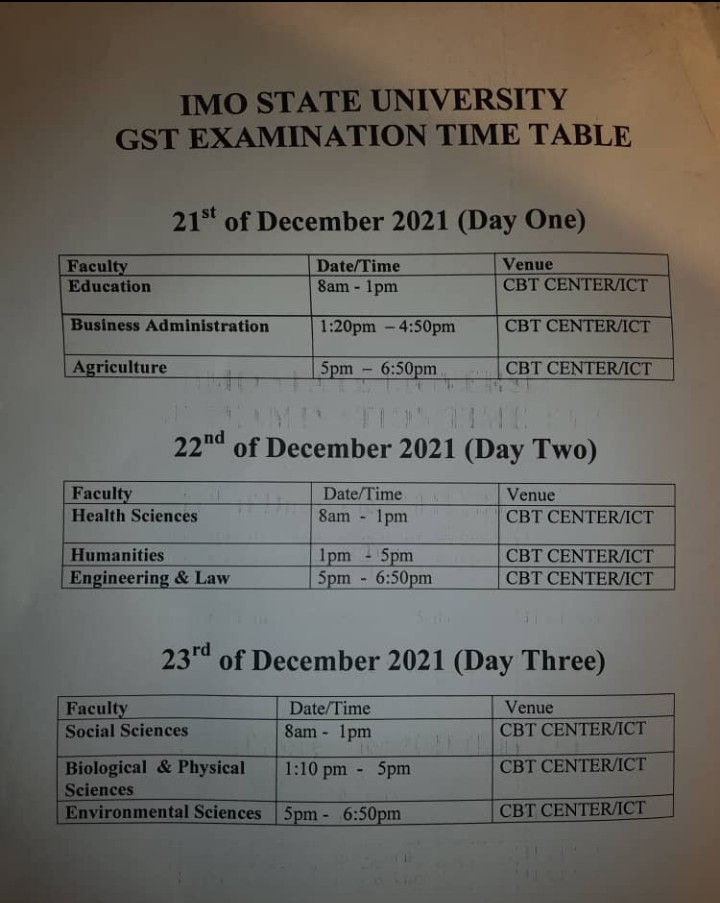 IMSU GST/CBT update & examination time table for 2020/2021 academic session
It is no longer a news that IMSU first semester CBT exam for 2020/2021 academic session was rescheduled to start today being 21st December to 23rd December.
Below is the exam schedule.
Day 1
FACULTY OF EDUCATION – 8am to 1pm,
FACULTY OF BUSINESS ADMINISTRATION/MANAGEMENT SCIENCE – 1:20pm to 4:50pm,
FACULTY OF AGRICULTURE AND VETERINARY MEDICINE – 5pm to 6:50pm .
Day 2
FACULTY OF HEALTH SCIENCE – 8am to 1pm,
FACULTY OF HUMANITIES – 1:10pm to 5pm,
FACULTY OF ENGINEERING AND LAW – 5pm to 6:50pm.
Day 3
FACULTY OF SOCIAL SCIENCES – 8am to 1pm,
FACULTY OF BIOLOGICAL SCIENCES AND PHYSICAL SCIENCES – 1pm to 5pm,
FACULTY OF ENVIRONMENTAL SCIENCE – 5pm to 6:50pm.
NOTE: No phones, pencils or pen are allowed inside the exam hall.
Remember to put on face mask and maintain social distancing.
Divine Portal wishes you all examination success.
IMSU Info contains over 1000 project material in various departments, kindly select your department below to uncover all the topics/materials therein.